Introducing the Ford Family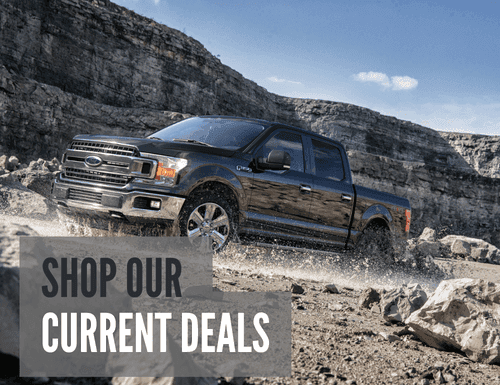 Five Star Specials
Five Star has the vehicle at the price that you are looking for. We will make it easy for you to find.
Value Your Trade
Trade-in and trade-up with one of your old trucks or vehicles and for a brand new vehicle.
We're Here For You
Tuscaloosa Ford always puts customers first!
Don't take our word for it: Read our reviews and see what everyone is saying.
Great customer service!!! They responded back quickly to all my messages about the vehicle. Jai did a really good job answering any questions I had about the Truck. Also Ms.Dana in the Financial department was nice and helpful 😊
This was my first purchase by myself and Frank made it really easy and simple. I could not recommend Frank enough. The facility was top notch. Thanks Frank!
I recently purchased a vehicle from Tuscaloosa Ford. The entire staff was so friendly, supportive, and professional throughout my entire experience. The sales associate, internet sales manager, and parts management department we informative and quick to reply to every questions I had. I'd highly recommend doing business with their dealership and support staff.
I was looking to buy my first truck and couldn't be more pleased with my purchasing experience. I was looking through the inventory and Samuel Wendland instantly came out to talk to me, and help me decide which vehicle would best suit my needs. I picked out a truck and every step of the way Samuel, along with all of the ford team members, were very professional, friendly, and made sure I was treated with the up most respect. I would recommend him to anyone that is looking for their next ford purchase.
I highly recommend this dealership. We recently purchased a truck from them, and our experience was one of the best. Jared was very friendly, knowledgeable, and easy to work with. Ms. Dana was also amazing and so enjoyable to talk with. Overall, they have great customer service and I would highly recommend them.
Professional, organized...Great to deal with! No games. Gage was attentive and considerate. The whole deal transpired like you would want it too. I would certainly buy from them again.
Tuscaloosa Ford is an AMAZING dealership!! Frank Friscia and Ms. Dana are exceptional people! They got me in and out of there in less than 2 hours.
Great experience. Everything was done online and the truck was delivered to my home about 4 hours away. The process was quick and easy. With the fact that there are hardly no vehicles on any lots where I live, I was fortunate to find this vehicle at Tuscaloosa Ford.
Tuscaloosa Ford made my truck buying experience a great one. I just want to thank Chris and Jacob Anderson for the fantastic way they handled my purchase and I would highly recommend the wonderful team at Tuscaloosa Ford for your next purchase. Thanks guys.
I found the truck online. I went and test drove it. The salesman was friendly and knowledgeable. The vehicle was exactly as described. The price was the same as advertised with no hidden fees. I financed through them and the finance lady was amazing. It was a pleasure to do business with them
Customer Service was really good when I went in to buy a car, I knew what I needed so there was really no shopping per say. I was treated well and Gage Corder was very helpful with showing me all of the gadgets on the car.
Service Manager Jai Walker was outstanding in customer support and service. My vehicle had a brake light safety issue and he ensured it was squared away. I had no idea he was the manager when he assisted me. It was obvious though, as I reflect, he was the leader of the team, by example. Jai we appreciate you and as new to Tuscaloosa we are all in for Tuscaloosa Ford as our go to service...and when the need arises sales.
I was assisted by Barry Whaley in the service department. Barry went out of his way to help me and answer questions about my vehicle. He was extremely knowledgable and very helpful. I would recommend Barry Whaley to anyone. This dealership is very fortunate to have Barry interacting with their customers. Barry is the reason that I love Tuscaloosa Ford!
We had a wonderful experience at Tuscaloosa Ford. Great sales! Great people! Would definitely recommend. Will be back for next car purchase! Wonderful people! Overall great experience!
I had the privilege to sell Tuscaloosa Ford a car and also buy an automobile. My whole experience was outstanding. My salesman was Ryan Gulledge. He was the nicest, most honest, and down to earth person I have ever dealt with! He worked extremely hard to satisfy my family. Best experience I have ever had buying a car! Proud to know there are still people like this in the world. Great Business!
Transparent pricing and excellent customer service. Will definitely purchase from them again, even if I have to travel a bit to get there. Lee was an excellent salesman and Dana was very helpful in the finance office.
I had a great experience starting with Chris then transitioning over to Lee, Jacob, & the F & I salesman. Sorry forgot his name. It was a seamless process from beginning to end. I was in & out in under 30 mins regarding signing final paperwork.
I just bought a 2017 F350 through Sales Associate Brian Nelson. I just wanted to say that it was great doing business with Mr. Nelson. He was very helpful and very professional every step of the way.....and the truck is doing great! Many thanks to Brian Nelson as well as to Ms. Dana Jones for helping me with the money part :)
Ryan Gulledge went over and beyond to make sure we found a vehicle we liked, could afford, and be financed for. He was very courteous, friendly, and did not pressure us into a sale. I got a low mileage, clean, dependable vehicle that was in my payment range. Dana is a awesome finance manager who worked hard to find the right bank for us. Highly recommend Tuscaloosa Ford.
I had a very good experience with this dealership I was in and out with my new truck no pressure at all I will shop there again
Jared Simerly was great to work with on my Maverick build. I would recommend him to anyone I know looking for a vehicle at this dealership.
Had a wonderful experience with my sales rep Gage. He went out of his way to help me. This is the 2 car I've bought from him in 3 months.
We have been looking for a newer model of F-150 with many of the same features our 2018 had. Salesman went above and beyond to secure one right off the truck that met our criteria! We are very happy with our 2022 F-150!!
Brian Nelson was absolutely fantastic in helping me pick out a new truck! He went above and beyond. He walked me through every step and explained what he was doing throughout the whole process. Definitely would recommend!
Jared, the salesman, was very helpful and made the whole process seamless. The Maverick was ready to go by the time we finished the paperwork
Welcome to Tuscaloosa Ford
Tuscaloosa Ford is the newest Ford dealerships in the Tuscaloosa area, and a new addition to the Five Star Automotive family. We serve the entire Central AL area, including the cities of Tuscaloosa, Birmingham, Bessimer, Hoover, Jasper and Brookwood. Our robust Ford inventory includes American favorites such as the Ford Mustang, F-150, Fusion, Edge, and Escape. We welcome you to use our website's many features to search for the perfect Ford vehicle, calculate a car payment, or to learn more about the monthly specials that we are running.