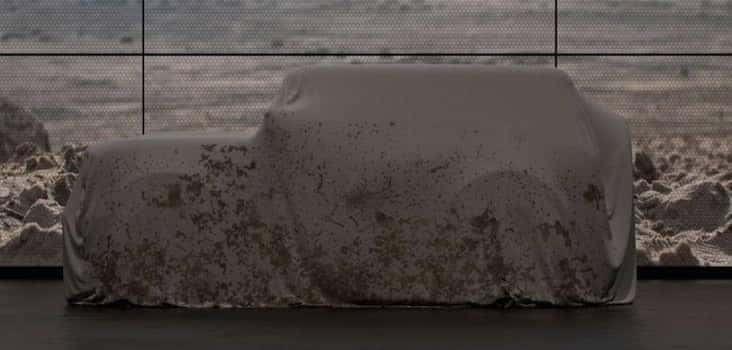 $28,500starting msrp
270 HPhorsepower
Research the 2020 Ford Bronco Near Tuscaloosa
It's almost ready. In 2017, Ford announced the return of it's iconic Bronco, and now we're only a few short months away from it's release. Coming to a Ford retailer near you in spring of 2020, the new Bronco is a modern twist on a beloved classic.
Logo Redesign
One of the few details that Ford has released about the new 2020 Bronco is the logo redesign. The Bronco logo has gone through several evolutions over the years, but the 2020 model is the sleekest and most striking version yet. It features a bold block font to adorn the exterior of the new SUV, complimented by the iconic horse silhouette graphic that has withstood the test of time.
Exterior Teaser
Ford has teased us about the exterior appearance of the 2020 Bronco, releasing a photo of the new utility SUV under a tarp to give a vague idea of the potential silhouette (pictured above). The 2020 Ford Bronco appears to stay true to the what made it unique in its glory years. There seems to be a short wheel base with minimal overhang on either side of the wheels. This design is great for efficient maneuvering and off-roading; which the previous Bronco models are famous for.


Pictured: 1969 Ford Bronco Sport Wagon
New Bronco Variations
While Ford has declined the opportunity to officially comment on the matter, there are many rumors floating about that claim that Ford is working on a pickup version of the Bronco to compliment the SUV. If this variation comes to fruition, it's expected to hit production lines around the year 2024.
Additionally, Ford had already released a racing-focused variation of the Bronco that might give us some ideas about features on the new 4×4 SUV. While the racing model is outfitted with a variety of racing-specific features such as lightweight racing shells, it also has more practical features that might make their way into the available production model. The racing model features an independent front suspension that would make the new 2020 Bronco ideal for off-roading. It also features 17-inch Bead-Lock Capable Aluminum Wheels that would provide a rugged exterior appearance. Both of these features could potentially be delivered on the version arriving to dealers in the spring.
Why Choose Tuscaloosa Ford?
The incredible factory certified service team at Tuscaloosa Ford is honored to help you find the perfect SUV for your unique lifestyle. Serving the cities of Tuscaloosa, Birmingham, Bessimer, Hoover, and Jasper, we take pride in treating every customer as diligently as our own family. That is why we offer complimentary services including 24-hour roadside assistance, 72-hour exchange policies on all vehicles, and lifetime warranties on new vehicles. Visit our dealership today and find out why our Ford Certified Pre-Owned and new vehicles are the best around.